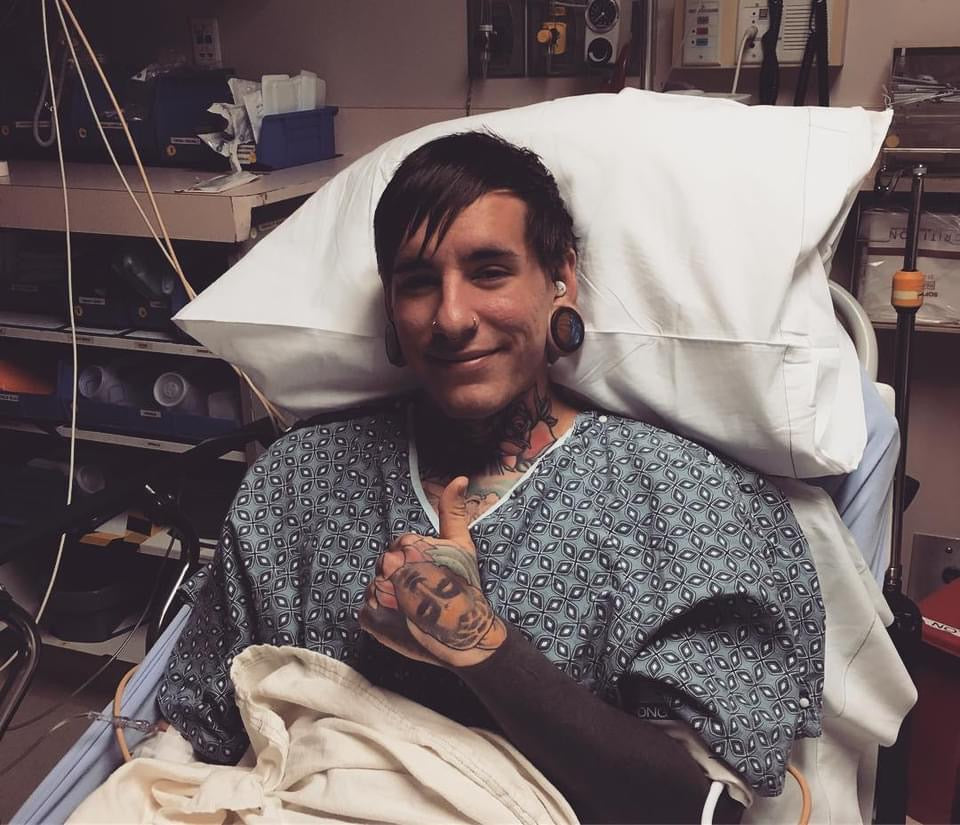 How EKO Started
Thank you so much for taking the time to read the story below . This journey has been incredibly difficult for me and my hope is that you can enjoy with a product you love and know that you support me and my family. I appreciate you all from the bottom of my heart and I wouldn't be walking at all or able to do what I love without your help.
-Hunter
Owner/Operator
Learn more about Cauda Equina Syndrome
The Origin Of EKO
My name Is Hunter and I am the founder of EKO. I have been tattooing for almost 16 years now and I have spent most of that career reckless and inconsiderate of my body. I would bend and twist and tattoo for long hours without food or breaks or stretching. If you are an artist, this may be a past time you are quite familiar with. It is easy to get caught up in art and feeling like you don't have time to do these things however, I was to learn my lesson in 2017. On Thanksgiving day, I woke up paralyzed from about midchest to my feet. Ignoring my initial panic, I went to work only to find it was extremely hard to drive. I didn't have insurance at the time so fear of financial burdens set in super hard. After all, as a self employed person in their 20's you think you are invincible and you don't think you need it. After several phone calls to nurse clients and family. I decided to go to the doctor. When I arrived at Orange Coast Memorial in Fountain Valley California, I had saw a line that was so long it would have rivaled Disneyland's ride queues. I was immediately discouraged thinking I could not work for the rest of the day at least. When I told the reception desk what was going on, I was told to have a seat. As I struggled to find a seat in my new condition, I was stopped and four nurses ran out and wheeled me in the back. At this point, I had skipped the entire line (maybe 40 people). Left in the dark, I had nurses poking me to see if I truly had feeling in my legs. After some tests, I was wheeled into another room. I was signing papers and having drugs administered then I had an xray and cat scan. The results were that my spinal cord was obstructed and compressed. The condition is reffered to as Cauda Equina Syndrome. I was told I would need to have emergency spine surgery and my quality of life was about to change forever. In shock, I had my first seizure. Not only was my situation getting worse but I had very little time to have the surgery done before the effects were permanent. I had surgery and after a month in the hospital, I was discharged not knowing if the results were conclusive or not. I was told only time will tell if you will ever walk again but it doesn't look good. As, I wheeled away in the most excruciating pain ive ever been in, I was utterly defeated and worried I could no longer tattoo anymore. I spent 9 months in bed and had nurses and friends check on me from time to time. I had no results and things were looking grim. I had sessions of acupuncture, and a ridiculous amount of doctors appointments. It was looking like what the doctor was saying was true. I wasn't going to be able to walk afterall. I was put on anti-seizure medication and opiods that made me functionless. The DMV had revoked my right to drive for the seizures and due to my condition. I was kicked out of my apartment because I could no longer pay rent. I was panicking and I had no hope left. The closest person to me was my friend Kathy. She was my esthetician and she was super helpful in controlling my acne and scars on my face through various methods. She had asked what I could do to remain in the tattooing industry. She knew where I was mentally and I was so depressed. After a few hours of discussing my next steps, we concluded that I could use my culinary school knowledge of science and her skills in herbology and skin to create an aftercare for tattoos. At least if I couldn't walk anymore I could still be at conventions and support my friends. After, 10 or so prototypes, money was tight and things were looking like they wouldnt work in our favor. I decided to try to tattoo. I didnt have any other skills other than hard labor so I caved and tried to tattoo a friend. It was so hard for me and it hurt so bad I had a seizure when I got home. I also felt like I didn't do my best work. I was distraught and I was at the give up point. I had $500 left from the last tattoo I did and thankfully another artist had put me up in their house for super cheap. I had spent the very last of my money on getting this thing up and going. Kathy and I tried one last time to get the formula right. We were successful! We still had stuff to work out with it but I was motivated now. I had the next few months to work on my body and I was motivated to tattoo again. I was excited to try my new efforts out. I did many hours of physical therapy and trial treatments and spent time drawing. After a year and figuring out how to get on disability, I was able to take a couple tattoos on to fund this project. I thought I was going to still have to quit and even if it hurt me a bit I would be able to continue. I had spent the next 3 years in a wheelchair. Fine tuning of the product and staying up with bills by tattooing small walk in flash was a consistent struggle and I felt like even though it was difficult, I was making progress. We had nailed it. We spent time experimenting with clients results and we were able to reduce the healing time on average by a couple days. Finally a light at the end of the tunnel. We had made a logo and sold our first products to our friends after tattoos and the sales started to show us this would be possible. I was so happy to see we created something that we thought was almost scrapped as a product come to life. Since that day, we have seen slow progress in my disability and the products performance. While I can't walk great, I am walking now and our formula is gaining popularity with artists and clients. I am very happy and proud to call EKO my passion project and I thank you from the bottom of my heart for reading this and supporting me in any way you have. I wouldn't be here today without all the love and help I have been given and I feel truly blessed to have the friends and family I do.
Thank you,